Friday, August 5th, 2011. 7pm.
Candlelight Collective community space. 258 N. Main St. (Lower). West Bend, WI.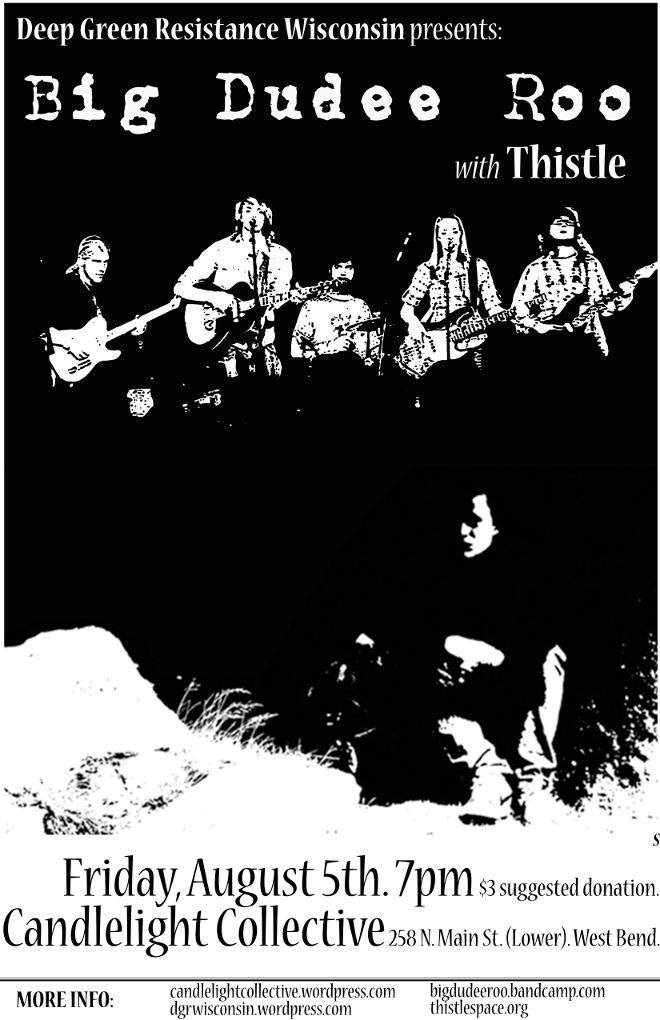 Deep Green Resistance Wisconsin presents: A show with Big Dudee Roo and Thistle. Please join us for a night of music and conversation focused on resisting civilization.
This show is $3 suggested donation. All proceeds will go to the bands playing, the collective hosting the event, and to DGR Wisconsin.
Big Dudee Roo is a folk-rock band from Michigan. Their music encompasses themes such as resisting the dominant culture's ideologies and structures, deeper connection with other humans and the natural world, feminism, social justice, and the many emotions that arise when confronting these issues. The genuine energy and emotion that the band puts into their live performances engage audiences in a distinctively intimate way.
Thistle is a folk singer, gardener and bicycle enthusiast living in Madison, Wisconsin. The Earth First! Journal has said of her, "Thistle's voice is provocative and powerful. With raspy realism, her lyrics paint a picture of life on the road (via bicycle), rage about the killing of the earth and a commitment to fight back". The Beehive Design Collective calls Thistle's music, "Movement music, the kind that moves your heart to hidden feelings and new hopes."
Deep Green Resistance Wisconsin, is a brand new, Wisconsin chapter of the Deep Green Resistance (DGR) movement. The goal of DGR is to deprive the rich of their ability to steal from the poor and the powerful of their ability to destroy the planet. This will require defending and rebuilding just and sustainable human communities nestled inside repaired and restored landbases. This is a vast undertaking but it needs to be said: it can be done. Industrial civilization can be stopped.